Had Fun at Vegas ERA and DRMA "2014 Marketer of the Year" Award Party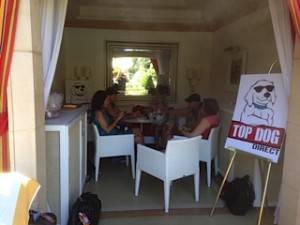 We did not win the big award, but we were sure the talk of the ERA convention and the DRMA party.  How would little Top Dog Direct have the biggest hit short form product among the field of all those large competitors- the BeActive brace?  Several people asked us about our product picking strategy.  Being humble Bill said to a friendly large competitor, "even a dumb squirrel can find a nut sometimes."  Honestly we stick to our criteria and do only a few projects that we really believe in.  Yep, the secret is out. At the ERA convention we did not have a booth as we feel it is much too stuffy a place and we hate wearing a suit and tie.  We rented a pool suite and put the word out to our network that we will be at the cabana ready to meet inventors and product finders.  We offered a relaxed atmosphere, an offer to order anything off the poolside menu and cool drink from our stocked fridge.  And sure enough several stopped by and we found 2 very good candidates that we are doing our due dillegence. As part of the Marketer of the Year festivities they asked Top Dog to answer some more questions for the next Response Magazine in the event we won.  Since we did not, you have an exclusive and I think these responses are insightful to the type of company we are:
What does it mean to you and your company to be one of the top nominees for the DRMA Marketer of the Year Award?
We are very honored to be selected.  We are a small DRTV company that concentrates on a few projects a year and been very lucky to have a successful product each year.  We thank our network of inventors and developers for our success and for their trust in us to do the best for their projects.
 What was the most significant accomplishment in the past year for your company?
 For the first time in our history we have had three products in the Top 25 at the same time, Tag Away, Night View NV and BeActive.
 How did the successful products you had over the past year fit within the overall concept behind your company? Were any of those products so successful that they changed the way you do business? If so, how?
 Night View NV, Tag Away and the BeActive Brace all solve important problems for our customers at a compelling value.  They all fit our criteria for success that we stick to.  Although we hate to do it for environmental and financial reasons, we had to use airfreight more often than we would have liked to satisfy overwhelming consumer demand.
 Why do you think your business has continued to respond well in an extended sluggish economy?
 When you are solving real problems for a mass-market audience with a unique product for a compelling value in a compelling commercial, the consumer will always respond.
 What is your outlook for the next 12 months? What are the top items in your pipeline?
 Several inventors have entrusted us with some outstanding products to take to market, but I would be insane to disclose those in our extremely competitive industry. 
 How has technology changed the way your company does business in the past 12 months? How will it in the next 12 months?
 Yes, the Internet is playing a much larger role in the marketing mix and mobile devices are leading the way.  It requires that you be flexible in your methods and practices even when you think they are currently working well.
 What types of products and services are best equipped to survive — and even thrive — in 2015?
Products that solve real problems for a mass audience and solves them well will always be winners in spite of the economy or technological advances.  When we questioned that premise in the depths of the Great Recession we had one of our greatest hits with Tag Away.
Bye For Now,
Steve